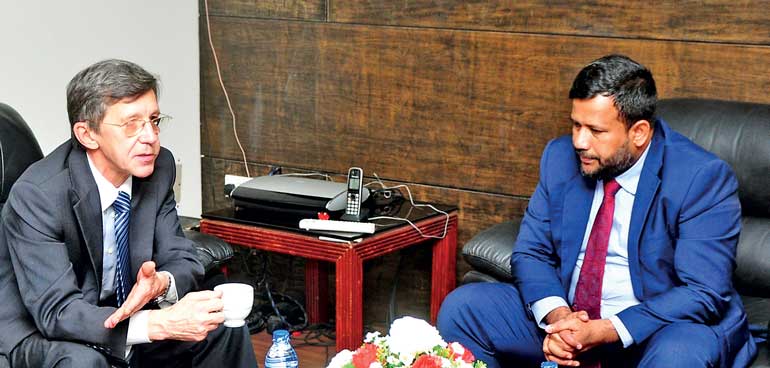 The Russian Federation revealed that its historic longing for Ceylon Tea has not wavered and even vowed for bigger trade with Sri Lanka, calling to despatch a strong delegation to the trade meet scheduled in Moscow this year.
"Yes, we imposed a ban on Ceylon Tea, but it was nothing to do with our asbestos but was only about an insect found in a tea package from Sri Lanka," said an upbeat Ambassador of the Russian Federation Yury Materiy. Ambassador Materiy was meeting the Minister of Industry and Commerce of Sri Lanka Rishad Bathiudeen at his office in Colombo on 9 January. 
"If we connected Ceylon Tea exports issue with Sri Lankan imports of Russian asbestos as widely speculated, then our tea ban would have to continue even now, isn't it?" asked Ambassador Materiy. "We are not speaking about asbestos in general but only about Russian Chrysotile which is not harmful. Lots of investigations have been done on it. Russian workers who have been working in the chrysotile industry for the last 30 years are doing fine – not one worker was reported to have had cancer in the last 30 years. There are many workers who handle chrysotile in the mines with bare hands, and they are fine. If you decide to import chrysotile from us, we will be very happy."
Sri Lanka has been among the leading buyers of asbestos in the world. In 2015, the four leading asbestos importers in the world were India, Indonesia, China and Sri Lanka (buying from all asbestos exporting countries). Sri Lanka absorbed 6% of global asbestos imports in 2015. According to the Department of Commerce, 'Iron and steel', 'wheat' and 'asbestos' have been the three leading imports from Russia to Sri Lanka in recent years. Sri Lanka's recent asbestos imports from Russia has been at low levels and has shown a declining trend – $ 33.87 million in 2014, $ 27.92 million in 2015 and $ 28.80 million in 2016. From January to August this year, Sri Lanka's asbestos imports from Russia was only $ 13.57 million.
"We want to strengthen relations with Sri Lanka further. Bilateral trade between both countries is still low and it is time we expand our trade with diversified products. In this light, I am pleased to say that we shall look forward to Sri Lanka delegation's arrival for Russia-Lanka Intergovernmental Commission meeting in Moscow later this year so that we can start bigger trade. We look forward to stronger bilateral cooperation with Sri Lanka including in our assistance. We in Russia like to support Sri Lanka in development cooperation in sectors of energy and agriculture."
Sri Lanka's total trade (both imports and exports) with the Russian Federation which was at $ 435.83 million in 2015 declined to $ 381.71 million in 2016. This year in the January to August period, it reported a total of $ 260.78 million.
Minister Bathiudeen warmly welcomed Ambassador Materiy's invitation to strengthen trade between the two countries. "Russia and Sri Lanka have long-standing, friendly and cordial relations. I am pleased that Russian Federation has a greater vision of cooperation with Sri Lanka, beyond changes in temporary trade flows. We shall prepare a strong delegation to Moscow this year so that bigger trade can commence, and I shall instruct my officials to start work. Ceylon Tea exports are of high quality. I have been informed that that particular package in question was made of imported packing material and Sri Lankan packing material was not used in it. I believe our Gem and Jewellery export are attractive to Russian market and our exporters are eager to explore this potential. We thank Russian support to our development cooperation as well," said Minister Bathiudeen.  
In 2015 Russia was the topmost buyer of Ceylon Tea at $ 156.65 million, and the second leading buyer was Turkey. However, in 2016, Russia became the second largest buyer of all types of Ceylon Teas (including green tea made in Sri Lanka) at $ 143 million – the leading buyer in 2016 was Iran, at $ 154.10 million. According to Minister Bathiudeen's Department of Commerce, nearly 74% of Sri Lanka's exports to Russia in 2016 was Ceylon Tea at a value of $ 143 million (while total exports to Russia in the same year was $ 182 million). Over the years, total tea exports to Russia have shown a declining trend – $ 240.32 million in 2013, $ 228.27 million in 2014, $ 156.65 million in 2015 and $ 142.55 million in 2016. Ceylon Tea exports to Russia from January to August this year totalled $ 114.18 million (83% of all types of Lankan exports to Russia from January to August 2017). 
Daily FT, 11th January 2018.