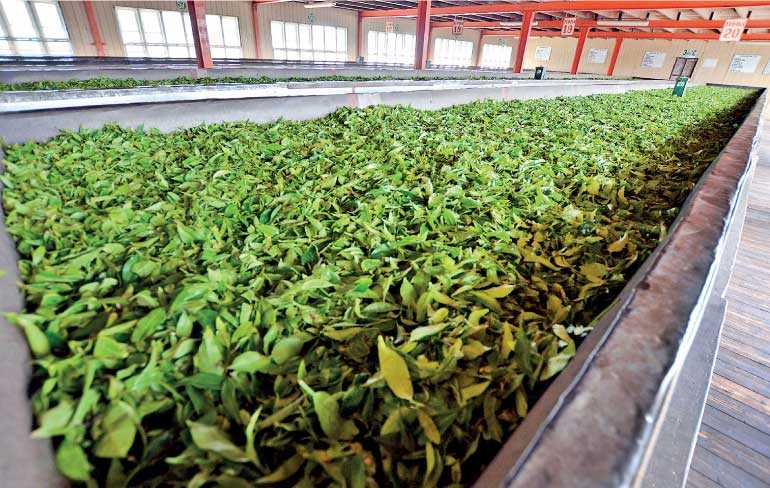 While coffee might seem to be the 'go-to' drink for those seeking a hot beverage, the world actually runs on tea – Pic by Shehan Gunasekara
From its inception up to the present day, the history of Sri Lanka's plantation industry has been unique; undergoing drastic changes from the colonial era, to the period of private management by Agency Houses, into an extended period of nationalisation and finally and most drastically through the sustained transformations that the plantation sector has undergone subsequent to the 1992 privatisation. 
In order to truly appreciate the present circumstances and performance of this industry and the role of the Regional Plantation Companies (RPCs) in particular, it is vital to consider the development of our industry as a whole. 
Today's international markets are changing at an increasing pace, while the threat of climate change continues to cause varying disruptions to agricultural productivity across the globe. At this crucial juncture, we assert that our entire industry must be viewed in its totality in order to ascertain the true reasons as to why Sri Lankan RPCs have achieved such success across so many key areas today – from improvements in the socio-economic conditions of its employees on the estates to substantial improvements in quality control, management techniques and infrastructure – in order to accurately ascertain what more is required of each and every stakeholder group and to ensure commercial, environmental and social sustainability for the Sri Lankan plantation industry moving forward. 
While coffee might seem to be the 'go-to' drink for those seeking a hot beverage, the world actually runs on tea. Aside from water, tea is the most popular beverage in the world and in the United States alone; tea imports have risen over 400% since 1990. It would be futile if we don't capitalise on the trend and re-instate our position of being the number one exporter in USD terms.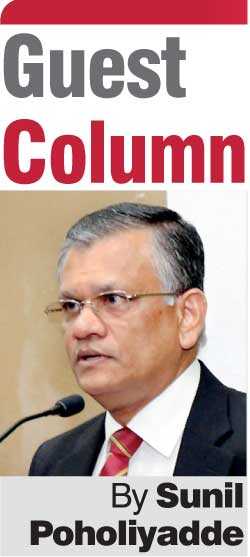 Colonial roots 
Established in the era of British colonisation, Sri Lanka's plantations experienced a period of progress with the agrarian elite investing in bank institutions, infrastructure, railways, credit expansion and industrialisation. The money earned from tea and later rubber exports was the essential capital that would bring about important changes in the country's society, economy and culture. 
However, living and working conditions of the bonded estate labour was not a consideration and the feudal hierarchy lorded over them ensuring productivity, quality, and profit above all. Basic necessities like healthcare, housing and education were limited to the basic requirements. Plantations were run tightly, in order to maintain the lowest cost of production and highest rates of productivity and soon Ceylon tea began to be recognised and consumed the world over. 
When Sri Lanka gained its independence, the management of the country's plantation industry was still retained in private companies known as Rupee and Sterling companies. While the British no longer retained sovereignty over the island, there was a substantial continuity in terms of how the island's plantations were operated and managed. 
During the pre-nationalisation period, Agency Houses on behalf of them managed approximately 134,000 hectares of tea alone with rubber occupying 64,000 ha and coconut, 22,000 ha, all of which covered 8% of the Country's land with their continuing performance instrumental in the preliminary establishment of Ceylon tea's reputation for the highest quality. 
The nationalisation debacle 
During the 1972–1973 periods, the Government of Sri Lanka nationalised privately-owned estates, taking over some 502 privately-held tea, rubber and coconut estates, due to socialist ideologies that led to major land reforms, limiting the extents that could be privately held. In 1975 the Rupee and Sterling companies were nationalised – with Agency Houses continuing as trustees. Thereafter in 1976, these were turned over to the two largest State-owned plantation agencies, namely: Janatha Estates Development Board (JEDB) and State Plantations Corporation (SPC). 
Several smaller entities such as Usawasama, Janawasa, were also created and stacked with political appointees who mismanaged the estates to an extreme point where they had to be shut down and land distributed for village expansion. Pulling political strings was rampant, with totally incapable, inexperienced managers hired.  
Although socialist ideologies were being rammed into the system's administration, the plight of estate workers was yet to be factored in. Rather, the debates surrounding nationalisation were almost purely motivated by a desire to take control of significant profit generating resources, ply it with political sycophants and distribute land in a sweeping, authoritarian manner. Estates began to degenerate rapidly under State management, while the numbers employed in these estates ballooned in size with the country's political class increasingly viewing the sector as a job bank to purchase support each election cycle.
This reality was plainly understood even at the time, as evidenced by academic publications from the era. An excerpt from an American publication in 1992 noted: "The privatisation initiative in the tea sector as part of structural adjustment programmes advocated by the World Bank and the International Monetary Fund (IMF) is intended to balance the national budget by removing Government subsidies and privatising State enterprises such as JEDB and SLSPC. Theoretically this policy initiative may generate more efficiency and equity in the Sri Lankan tea economy". 
"Public funds which were previously used in subsidising inefficient bureaucratic agencies can now be reallocated for the purpose of much needed infrastructure and human development programmes. Moreover, the management of privatised entities may have the choice to operate free of political interference and financial regulations of the Government." (Economic Rationale for the Privatisation of Tea Plantations in Sri Lanka by Dr. Patrick Mendis, 1992)
All official records and high powered government committees have confirmed that by the time the estates were handed over to the RPCs, post privatisation in 1995 that "the State-run plantations continued to make heavy losses and performed poorly throughout most of its existence". 
Overstaffed, underperforming and riddled with debt that was ultimately costing the Sri Lankan tax payer approximately Rs. 400 million per month, there was only one lesson that ultimately came out of the 20 years of nationalised management of Sri Lanka's plantation sector, namely that politicisation breeds inefficiency, especially when mixed with complex businesses. From this era the positive contributions that did come about were the result of World Bank funding which was directed towards much needed replanting, factory development and transport vehicles.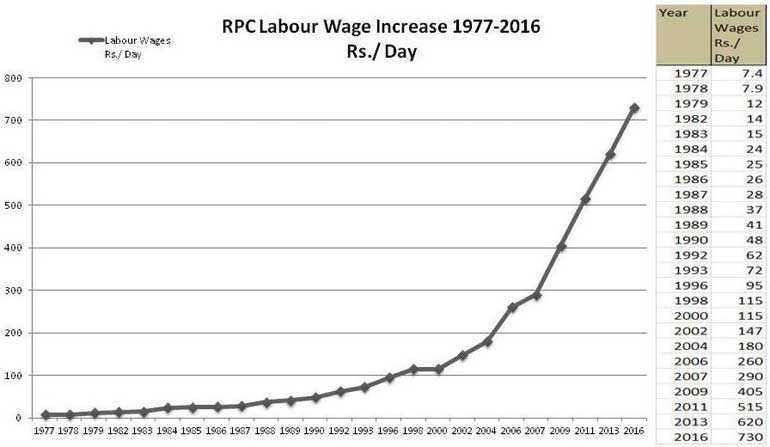 By the time privatisation was completed in 1992, conditions on the estates had reached their lowest point. Considering the continuous losses and increasing debts of JEDB and SLSPC up to the time of RPC's and private management from 1992 onwards, it is very likely that they would have continued to make losses and incur Government financial support. If privatisation had not taken place, the Rs. 1.5 billion per year financial support provided by the Government to the JEDB/SLSPC in 1992, would in today's Rupee amount to almost 12 billion per year. 
The political upheavals during the 1970s and 1980s were sharply felt by estate communities and the plantation industry as a whole. Our industry has endured through the severe weathering effects caused by the ensuing conflicts including the 1970s and '80s JVP insurgency when many young college students were forced to take refuge in hill country estates. 
This in turn resulted in the estates becoming easy targets for violent police raids with estate management being hounded by the insurgents in turn. The situation became grave when planting executives on duty were brutally murdered in the remote plantations. Talented estate managers migrated overseas with many of their competent peers leaving in disgust at the senseless violence. 
The conflict with the LTTE also took its toll on the industry and estate communities with several thousand estate workers seeking refuge in South India with racial discrimination levelled against them. The scars of decades of ethnic conflicts are still clearly felt today, contributing to the mass exodus of the more productive estate staff and workers, leading to a depleted work-force, faced today.
Adapting on-the-go: The era of privatised management 
Once the inability of the State to manage the plantations had finally manifested, privatisation emerged as the only possible alternative to the collapse of the industry and offer-for-sale documents were prepared to serve as the legal foundation for privatisation. These documents, executed by the State, provided each RPC complete freedom to use the leased land for diversification into any other crop, extraction of minerals, forestry and timber harvesting and setting up of any venture permitted by law. 
The overarching provisions and terms of these documents hinged on the promise of complete autonomy for the private sector to manage their plantations in the most efficient and productive ways possible and this was the very reason for estates to attract strong interest, both locally and internationally. Unfortunately for our industry, neither the offer document nor the spirit of these initial agreements was respected by any subsequent Governments. Such a resounding failure on the part of successive Governments has been the source of continuous and severe disruption to many development plans for RPCs. 
The plantation companies were bequeathed a total land extent of 239,398 ha – comprising of 94,244 ha of tea land and 57,930 ha of rubber land at the time of privatisation in 1992. In the 23 years since, politically motivated acquisitions and illegal encroachment resulted in a 28.2% reduction in the most productive land extents – including a 16.3% reduction in tea land and a 25.8% reduction in rubber lands – shrinking total RPC land extent down to 180,291 ha by 2016. 
The main aim of privatisation was to improve the overall managerial performance and in just over a quarter century later, the plantation sector has showed drastic improvements across many indicators, be they economic, social or environmental. 
Significant investments were made by shareholders in the 1995/96 privatisation era, based on the several opportunities laid out in the bid document. These included agri-diversification, forestry, the setting up of hydro-power projects, and total autonomy on how the land should be best utilised.
Post privatisation, salaries of estate staff increased with employees confirming that there were more opportunities for promotions linked to performance rather than political connections and influence. Previous insecurities present in State-owned plantations, where political affiliation and influence determined employee security, were tempered down, as a performance-based culture was instilled by the new management.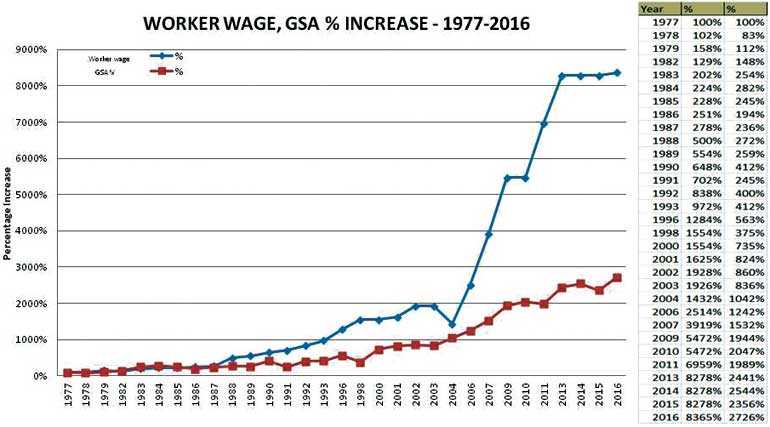 Weathering all storms and hurdles, along with ad-hoc policy decisions detrimental to best agri-practices, the 2016 edition of world fact book on exports and commodities, stated Sri Lanka as second in total USD worth of exported tea, next to China. China at $ 1.5 billion commands 22.8% of total tea exports, Sri Lanka: $ 1.3 billion – 19.2%, Kenya: $680.6 million at 10.4%, India: $ 661.7 million at 10.1% and United Arab Emirates, the newest entrant that does not grow any tea: $ 287.9 million at 4.4%. 
While Kenya has beaten Sri Lanka as the biggest tea exporter, Sri Lanka continues to maintain its position as the world's highest tea exports revenue earner, losing its number one position to Kenya as the highest exporter in the world a few years ago. Notably, Sri Lanka also remains as the most expensive tea producing nation in the world, with average wages having steadily increased, at a rate higher than the General Sales Average of Pure Ceylon Tea in international markets. 
Facing severe encroachments, a shrinking labour force, and the periodical obstacles created by Government policy interventions, RPC tea production reduced to 72.9 million kg, but the yield per hectare improved to 1,138 kg per ha in 2016, as compared with 1,021 kg per ha in 1992. However with another ad hoc decision of the Glyphosate ban since March 2015 the YPH dropped to 900 by end March 2017.
At this point, it must be mentioned that the glyphosate ban, a decision made on a whim, with no scientific evidence to justify such a drastic action has caused a total colossal loss of Rs. 35 b to the industry while the Country risks losing a longstanding, lucrative export market in Japan. 
Meanwhile, rubber YPH has recorded a sharp increase from 647.3 kg per ha in 1992 to 862 kg per ha in 2016. Since 1992 the RPCs have replanted vast extents, at times exceeding the average 3% replanting per annum. 
The RPCs strategic forward planning saw the need for diversification within a short period which prompted many RPCs to diversify in to another major crop oil palm in the best suitable areas. Mitigating total dependency on tea and rubber, factoring in shortage of workers was the strategic decision for oil palm – justifiably so, given that the financial performance of oil palm during the period 2013 to 2016, a tenure in which both tea and rubber prices crashed. Oil palm companies set up processing mills with their own funding which has saved the national economy valuable foreign exchange by curtailing edible oil importation. 
Today, it is the RPCs which are leading the charge on crop diversification, with upwards of 2,300 hectares of RPC land now under diversification on crops other than oil palm. 
The oil palm plantation industry is also facing turmoil with a temporary ban being enforced for the cultivation, based on emotional agitation by some groups with vested interests, sharply interrupting an entire development programme. Plants to the value of almost Rs. 400 m propagated with imported seeds with the necessary government approval is currently running the risk of being destroyed if they are not planted at the correct time.
Large-scale diversifications of innovative crops include arecanut, macadamia, pineapple, rambutan, soursop, lemon, oranges, papaya, avocado, passion fruit, pears, and vanilla together with spices like pepper, cloves, cardamom, and forestry initiatives from khaya, giant bamboo and other fuel-wood plantations. 
Meanwhile, the 36 State-managed estates which were also managed by the same JEDB and SLSPC during the nationalised era remain a horrendous burden on taxpayers, being in arrears of close to Rs. 3 billion on their statutory dues of EPF, ETF and Gratuity and the Government continues to subsidise them to the tune of Rs. 1.5 billion a year. Here, the State has ample opportunity to turn its attention to the massive loss making State-managed plantations and implement so called 'alternative models'.
(The writer is Chairman, Planters' Association of Ceylon.)
Government and stakeholders must clearly understand that plantations cannot be managed in the historical manner given the current political, environmental and economic issues and continue to be viable business entities. Provisions for changes are available in the lease document and RPCs must be given a free hand to exercise the rights without interference and subsequent directives which interrupt the development programmes. Each RPC has a business plan based on indicators such as location of the plantations, crop mix, availability of workers and several factors which are not common across all plantations. 
In the spirit of a privatised plantation sector
RPCs have invested a cumulative Rs. 70 billion between 1992 and 2016, contributing seven billion in lease rentals and a further 1.72 billion in income tax, coupled with dividends to Sri Lankan shareholders, totalling Rs. 8.17 billion, despite continuing challenges from diminishing availability of labour, incessant increases in labour wages not linked to productivity. The emergence of competitors like Kenya, operating on significantly larger economies of scale to produce volumes of tea, at drastically lower costs of production poses a big risk. 
In addition to the clear superiority of RPC management in terms of productivity, it has only been under our stewardship that more uncompromising, environmental protection standards have been adopted. These include Rainforest Alliance certifications secured only upon the completion of a stringent process of auditing and the implementation of extensive environmental safeguards. To date most RPCs have secured the Green Frog seal of compliance propelling them to the prestigious Global Sustainable Agriculture Network standard. 
Similar efforts have been channelled towards forest conservation and rehabilitation, with the majority of RPCs certified with the Forest Stewardship Council. Membership requires organisations to develop national forestry standards, localised to meet the unique requirements of each natural habitat, as per global standards. 
To-date RPCs have cultivated in excess of 20,000 ha of forestry. 
We wish to recognise and thank the Governmental authorities for commencement of guidelines towards a national policy for commercial forestry, on a request by the Planters' Association. Despite a five-year forestry plan in place, a sudden ban, imposed five years ago on felling timber which is grown for fuel wood, meant that estates had to transport their requirement of fuel wood at an additional cost, causing additional and unnecessary burden on the bottom-line.
At present, there are 688 International certifications for 297 RPC factories including HACCP, ISO 22000, Fair Trade, Forest Stewardship Certification (FSC) ISO 9000, Care Quality Commission (CQC), Ethical Tea Partnership (ETP), UTZ, Rainforest Alliance (RA), Global GAP, SA etc., thereby ensuring the maintenance of extremely strict production and processing standards that ensure the safety of consumers, workers and the wider environment.
Furthermore, the 'Ceylon Tea' image and the branding of Food Factory Concept, Chemical Free Tea, Cleanest Tea in the world, Ethically Managed Plantations, Zero Child Employment, Ozone Friendly Tea, Sustainable Agriculture, Product Traceability to Source and Single Origin Estate Marks are predominantly RPC standards which is a huge plus for the image of Ceylon Tea and its branding.
Other internationally-accepted certifications which entail rigorous compliances with environmental, agricultural, economic and social standards of conduct, obtained by RPCs include Good Manufacturing Practices (GMP) for Rubber and Cinnamon processing, Global Organic Latex Standard, for rubber ISO 9001:2008 Quality Management Systems Certification, for Oil Palm & Fruits, while the Round Table on Sustainable Palm Oil (RSPO) certification is work in progress.
To-date not a single estate worker has been laid off; instead, their opportunities have increased with the productivity linked clause attached to their daily wage. Living conditions have improved vastly with two-bedroom houses with en-suite toilets built to replace the line rooms. A total of 50,000 such homes have been built in an ongoing effort for the 180,000 families that still live on RPC estates – all of whom may not be actually working in the fields. 
From schools to hospitals, crèches to retirement homes, ongoing welfare activity to one-tenth of the country's population is a priority of the RPCs which constitute the Plantations Human Development Trust (PHDT) along with trade unions and Government. Today an estate worker has the ability to earn in excess of Rs. 25,000 per month, in addition to all other infrastructure facilities provided by RPCs. 
The true strengths of Sri Lanka's plantation industry and their source 
In light of these and many other achievements by the RPCs, standards of Sri Lanka's plantations have been elevated far beyond its difficult past and therefore we assert that in truth, many of the strengths that remain in our industry today are initiatives taken by the RPCs. Environmental protection and quality standards have been implemented across the RPC sectors, where none were in place before privatisation. Our produce continues to fetch favourable – and often times record breaking prices from international buyers.
To say that worker wages have been increased periodically is an understatement. Wage increments have been awarded not commensurate with productivity, politically prodded and not considering the competitiveness of the company. Holding back wage increments was never the RPC agenda; however linking it to productivity will be the future of the plantation industry in Sri Lanka. 
Despite constant politically motivated interference, many RPCs have commenced investments into crop diversification in order to consolidate revenue streams, even when various Governments have continued to vacillate on vital policies such as the importation of seed material. Meanwhile, important progress is being made to emulate the successful examples of RPCs who have partnered with large conglomerates to enter into value addition; something which did not exist during the time of State management. 
Diversification through tea tourism is hugely successful. These include tea factory tours, hotels and niche luxury tea trails experiences –attracting high-spending tourists from across the globe – helping to further raise the profile of the island as a vibrant tourist destination. Many others are working on investments into this sector with the Planter's Association committed to supporting the relentless exploration of innovative diversifications. 
Favourable policies that will look at the industry 50 years from now and start sowing the seeds to propel it to a future-ready, economic power base, is the need of the hour. As an industry we cannot afford any more random ad-hoc policy decisions. Extending leases is an economic imperative, given crop cycles of rubber and oil palm. RPCs must be assured that leased land will not be annexed or encroached through political heavy handedness. 
Ultimately, the RPCs each need to be allowed to draw upon their precious experience gained from the last quarter century of management, in a rapidly changing environment, to autonomously decide on the best course of action for each company, in alignment with a common ethic of sustainable, profitable, diversified plantations.  
(The writer is Chairman, Planters' Association of Ceylon.)
Daily FT, 13th August 2018