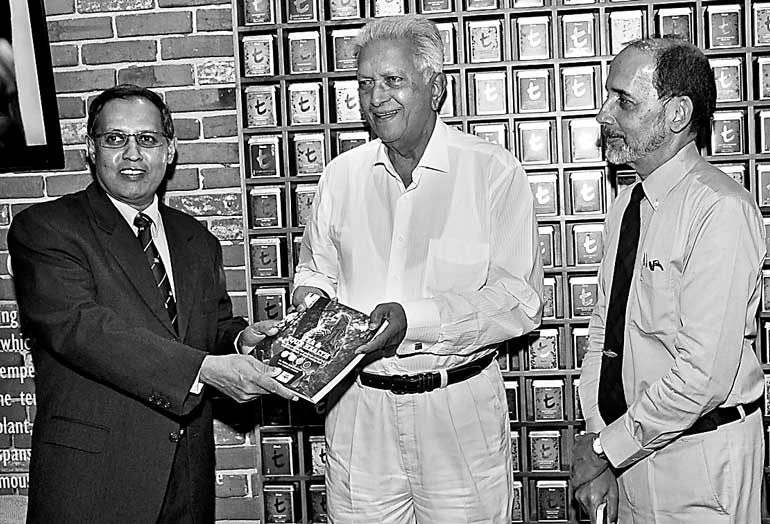 ---
I was delighted when Dilhan sent me this book about a month ago, I read it from cover to cover with much interest, why I think that it was important, I wanted to bring it with me to get Tissa to autograph it for me, but I find that my copy has been pinched, so I think we are off to a good start with this book. 
I think tea and its health don't deserve a better advocate or a better example as Mr. Fernando, obviously done a world of good, well done. Congratulations to Dilmah for flying this flag, Ceylon Tea, across the world, I would argue that more people would know, more people across the world would know the brand name of Dilmah and know that Ceylon and Sri Lanka are the same place. I dare say… That's a testament to the effectiveness with which you have carried your brand name across the world. 
It gives me so much pride when I go and go around the supermarket in some remote part of Australia or New Zealand, UK or Singapore to see Dilmah tea on the shelf. So it has become an ambassador for what Sri Lanka represents and also the fact that carries with that an assurance to the customer that the tea is clean and it conforms to the highest standard that you would otherwise expect, that's the plus point.
Tea is not unhealthy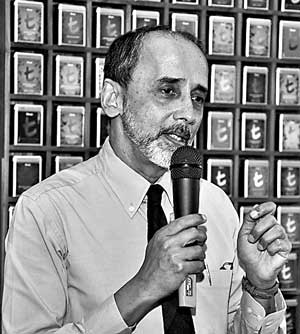 The second point regarding the book is I tend to look at this kind of book upside down, because as a scientist my training is to question everything. So for me it is not so much that Tissa expounds the health benefits in tea, it's that he shows that after a couple of millennia of tea drinking nobody has found anything wrong with drinking tea. 1-SLTB-Chairman-Dr
Tea is not unhealthy, I think that it is an important message because it also goes to something that Dilhan said, nowadays people are drinking what manner of herbs without really knowing what they are drinking, here is a rub – 99.99% of the pesticides in this world are manufactured by plants, every plant is a factory of pesticides because that it is how it prevents itself from being eaten by insects. 
So even if you think of nicotine or pyrethrin or any of these plants that are used in the organic food industry to prevent insect attack, they are the ones who are manufacturing the toxins and so when we infuse and drink with this wide variety of herbs now that we are drink around the world, nobody has stopped to check for a minute, what Tissa has done is to take all the scientific studies and found that those herbs are safe to drink.
I was astonished to find that a common herb like thyme for example has 240 parts per million of caffeic acid, caffeic acid is in the same WHO schedule of carcinogens as glyphosate and thyme is a commonly used herb, but if you drink a thyme infusion day after day, something bad could happen. Many of these infusions that people are drinking completely untested and I think it will come back to bite those industries in due course. 
But tea, as you show from the book, is something that is safe to drink, let alone the health benefits, those are separate matter, if it does you some good in addition, so much the better but it certainly doesn't do you any harm and that's an important message to get across to the tea drinking world. 
Healthier lives
The second thing is that people are coming increasingly to view these infusions as something to do with how our grandparents and great grandparents lived. This yearning to go back to the Victorian era and think subscribe to the illusion things were better then. 
Things were not better, things are a lot better now. In 1948 when we got independence life expectancy in Sri Lanka was 48 years, today it is 75 years, a quarter century has been added to our lives on average as a result of the benefits that the agricultural revolution and science has given us. To dispel all this and to say that we want to revert to the edel of Victorian or pre-Victorian times is greatly and profoundly mistaken but still it's a common held belief, most people think that things were better in our grandparents and great grandparents time. They were not. 
We are living pain-free lives. We are living much healthier lives. I am sure Mr. Fernando would remember children who got cholera, small pox; now our children don't even get measles, mumps, chicken pox, we have got rid of diseases, to say that we are yearning for health, justified but it is a mistaken belief to think that we are any less healthy than our parents, grandparents or ancestors. 
We are a lot healthy. So this new consciousness for health is why I think tea should get the attention it deserves as a safe beverage. Even coffee cannot be regarded by any scientific assessment as a safe beverage, we all know what happens to people who drink too much coffee, coffee addiction and dependence are common place, if you don't have your daily cup of coffee you start getting headaches, you start craving. So I think the message that comes from the book is that there is a huge amount of value in the health benefits of tea. 
Sugar consumption
But there is another point, which is that for every kilo of tea that we consume in Sri Lanka, we consume on average 15 kilos of sugar so the capita consumption of sugar in Sri Lanka is 30 kilograms person per year, tea is 1.4 kilograms per person per year. That is the staggering enlightenment of our lifestyle and so while we push health benefits, I am not say that all the sugar gets drunk with the tea, but while we push health benefits we also have to push the idea that people need to adjust lifestyles to become even more healthy. 
Because even though we have got rid of chicken pox and mumps we have now more diabetes. So this is a continuing battle for every bit of progress that we make there is a bit of regress and if we are going to take this message forward, it means building more consciousness in the country and overseas about how to do things right and this book is a huge step in that direction and for that reason… 
So I want to congratulate you Tissa on doing a magnificent job, it's a lovely book. I read through the tables, I even checked some of the references because I am a bit pedantic when it comes to this kind of thing and I found no flaw. So I think it will hugely add value and I hope it gets circulated well and I have no doubt that it will get huge amount of credibility to this miraculous beverage that we call Ceylon Tea that we want the world to love even more than it has now. 
Thank you again for Dilmah in doing a great job in not just selling tea but adding so much value to this industry by way of making not just this publication but all the other publications that you may not know. From biodiversity on healthy farming, organics and so on. This literature has become a hugely valuable and I hope you will keep doing it in the future.
Daily FT, 01st July 2017